EEECF Projects in India
Little Darlings - Relief Projects, India
03 March 2012
BrillKids 'Little Reader' was donated to us by the BrillKids Foundation (now known as the Early Education for Every Child Foundation) and is the ideal teaching tool for our work for several reasons: Providing early stimulation for neglected and marginalised children puts them on an early path for good education; knowledge of English is essential for a good education in India where all higher educational... Continue reading.
Building Blocks, India
30 April 2011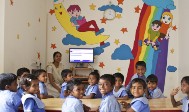 The principle of sight reading is not new to us. We've been following Glen Doman program in many of our subjects. But the BrillKids program did a tremendous amount of work by putting together every aspect we thought was needed to make lessons more of a success with the children. All that to say, we don't know how to express our extreme gratitude for donating your program for our school project! It's really... Continue reading.
Joy of Parenting Workshops, India
15 March 2010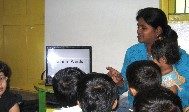 Jessy Naidu, Founder of Workshop Series The Early Education for Every Child Foundation is working with Jessy Naidu, a specialist in educating pregnant women and young parents on joy of parenting and the benefits of baby brain development. Jessy Naidu offers pre-natal and post-natal education seminars to interested participants in her locality in India... Continue reading.
Hydergarden Matriculation School, India
8 March 2010
Written by Thasleem Begum, Principal This magical kit has brought a revolution in the teaching and learning methods in the Pre School , Kindergarten and Primary Section of our institution. More than the playground the Audio visual room is the favourite place of our children. Please visit our website at www.hydergarden.com for a comprehensive look at our... Continue reading.